The Mega Millions jackpot for 04/15/2022 was $20 million, and here are the winning numbers from Friday night's drawing.
• First Five: 4-17-20-46-64
• Mega Ball: 23
• Megaplier: 4x
Friday night's 04/15/2022 Mega Millions jackpot was worth $20 million, with a cash-value option worth $11.9 million.
There was one lucky jackpot winner Friday who took home the grand prize, valued at $20 million, after correctly matching 5 white balls and the Mega Ball. The Friday game saw one lucky winner who took home the second prize after correctly matching five white balls without the Mega Ball.
There were seven tickets holders who matched four white balls and the Mega Ball, which earned them each $10,000, with two of them each earning the Megaplier prize of $40,000. The game also saw 182 winners who matched four white balls, each winning $500, and 43 more winning the Megaplier prize of $2,000.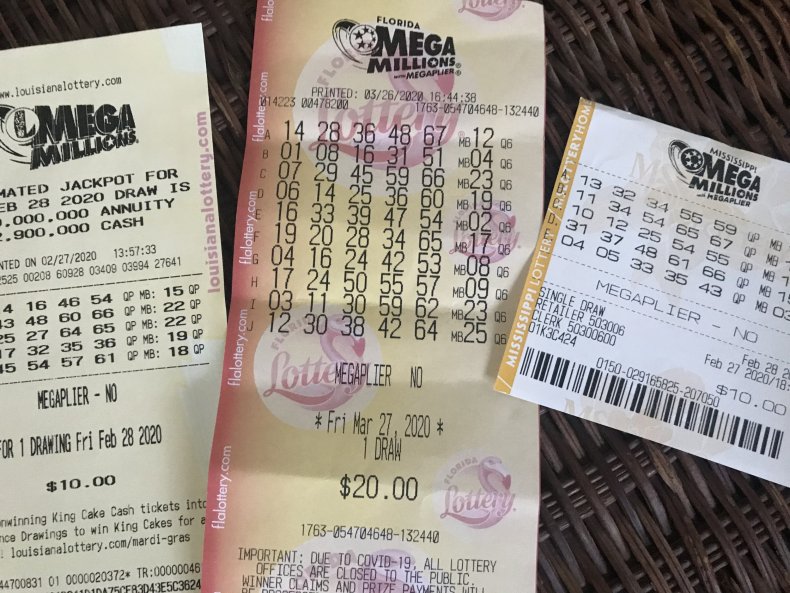 Here are the four Mega Millions jackpots won in 2022:
04/15/2022 — $20 million
04/12/2022 — $106 million (Minnesota)
03/08/2022 — $126 million (New York)
01/28/2022 — $421 million
Here are the six Mega Millions jackpots won in 2021:
10/22/2021 — $108 million (Arizona)
09/21/2021 — $432 million (New York)
06/08/2021 — $56 million (Illinois)
05/21/2021 — $515 million (Pennsylvania)
02/16/2021 — $96 million (New York)
01/22/2021 — $1 Billion (Michigan)
The previous winning ticket before that was sold in Wisconsin on 09/15/2020 for a jackpot worth $119 million. That was only the fifth, and final, Mega Millions jackpot won in the 2020 calendar year.
Here are the five Mega Millions jackpots won in 2020:
09/15/2020 — $119 million (Wisconsin)
07/31/2020 — $22 million (California)
07/24/2020 — $124 million (New Jersey)
06/09/2020 — $410 million (Arizona)
02/11/2020 — $202 million (New Jersey)
Other winners—dating back to 2019 — were a $372 million ticket sold in Ohio and a $227 million ticket sold in Texas
Mega Millions drawings take place every Tuesday and Friday at 11 p.m. ET. Five white balls are drawn from a set of balls numbered 1 through 70, while one yellow Mega Ball is drawn from balls numbered 1 through 25. You win if the numbers on your lottery ticket match the numbers of the balls drawn on that date.
Mega Millions tickets cost $2 per play. If no one wins the jackpot prize, the money is added to the top prize for the following drawing.
Most states offer a Megaplier option, which costs an additional $1 per play and increases non-jackpot prizes by two, three, four or five times. Before each Mega Millions drawing on Tuesdays and Fridays, the Megaplier is drawn from a pool of 15 balls. Five of these balls are marked with 2X, six with 3X, three with 4X and one with 5X.
The odds of winning with a $2 Mega Millions ticket are one in 303 million. See the Mega Millions website for more information.